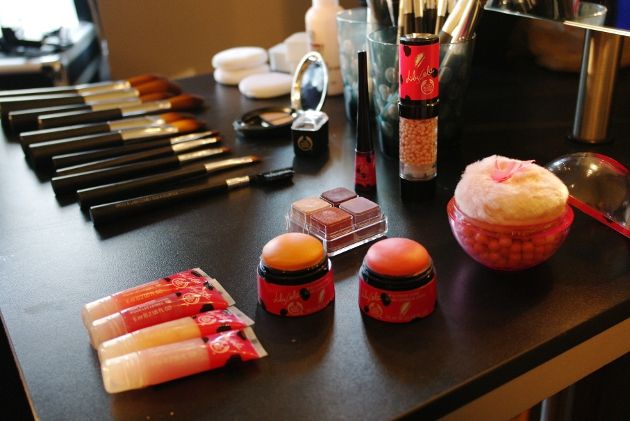 Last week I was fortunate enough to attend The Body Shop's beauty with heart launch party in Antwerp! The stores as well as some of their products are getting a little make-over, and they are launching a new campaign and a limited edition collection this summer.
Read on for pictures, swatches and more about the beauty with heart concept!
Beauty with Heart places the focus on both inner and outer beauty with quotes like 'Look good, feel good, do good'. The body shop has a very transparant policy regarding the origins of their ingredients and will further inform their customers about this. Along with Cruelty free international, they're also launching a campaign to raise awareness and forbid animal testing world wide.
Drop by your local TBS for more about this matter!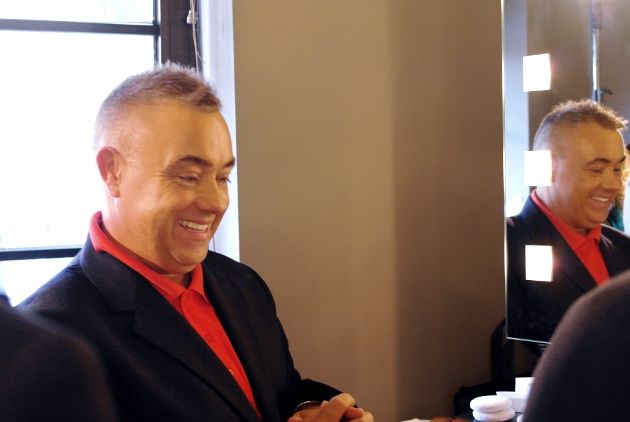 Me and my friend arrived just in time to watch a make-up demonstation by international make-up artist Chase Aston. He was really nice and cheerfull, and so were the PR ladies!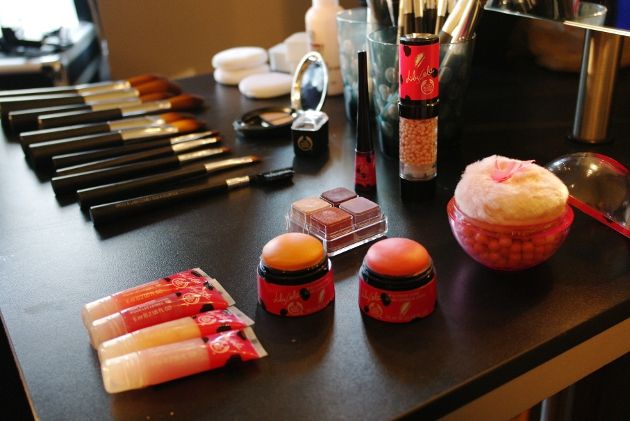 This is most of the new collection. There will also be a BB cream soon, but they didn't have one to try.
I went back for a closer look later on and Chase insisted that I tested the new products, so I gladly made some pictures and swatches!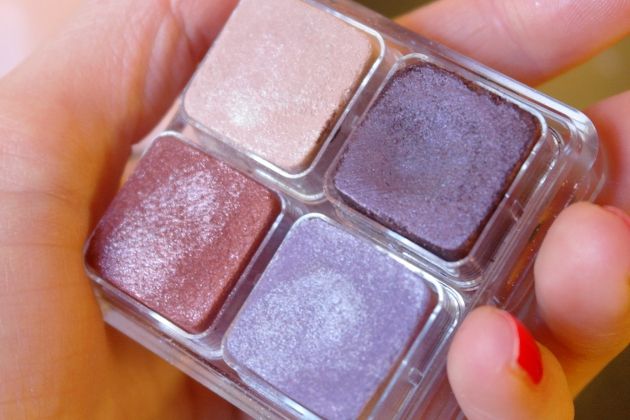 New Shimmercubes!
One of the most intriguing products was the Pearl Radiance primer. It can be used before foundation, mixed with it, or dabbed on top of your powder to set your make-up. It is mattifying in the sense that you don't get a greasy look, but there's an insanely fine shimmer in it that gives you a 'lit from within' kind of glow. I swatched it on my hand and it dried up fully matte yet glowy and didn't leave any tackiness. I am looking forward to this one! It will cost
€19.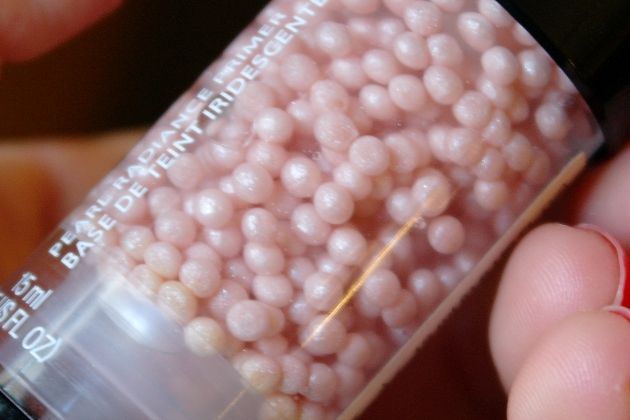 The Pearl Radiance Primer
Next up is the Puff on Radiance, a highlighting powder. These pearls look a lot like Guerlain's meteorites, but with
€
18 they are a lot cheaper. Along with a deep glow and some fine sparkles, this also left a very light peachy bronze color on my skin. I prefer my highlighters with a lighter base, but for anyone that isn't super pale, this is worth checking out.
Pretty!
High shine lip treatment. These lipglosses should be nice to your lips. They are quite sheer and subtle but with a lovely fine sparkle in them. I didn't try these though.
The lip & Cheek Dome. This comes in 2 colors, but this one was my favorite! It's creamy to apply but dries up with a satin finish. These blushes are not extremely pigmented, so it's pretty easy to blend and play around with.
These cost €9.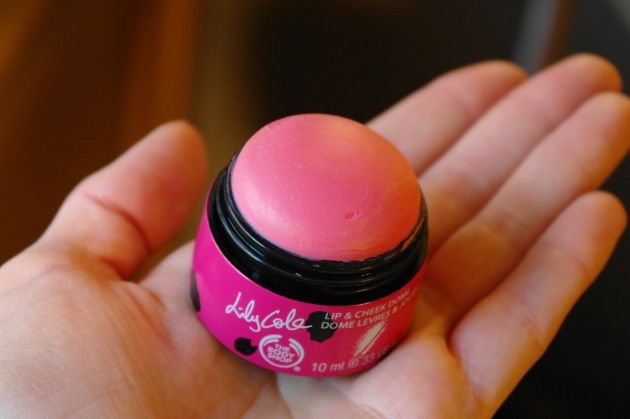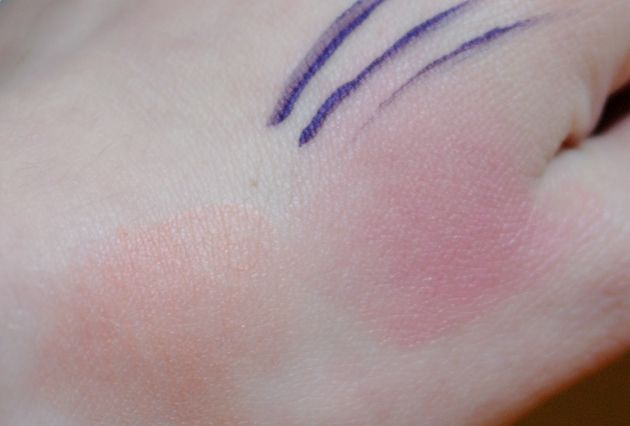 Swatches of the Liquid eyeliner and the Lip and Cheek Domes.
A purple liquid eyeliner with a felt-tip applicator for
€10
. I prefer a brush, but I know that a lot of people like this aplicator best. I really love the color on this one, but the formula didn't convince me. As you can see it doesn't apply evenly, so it will take some effort geting a perfect opaque line with it.
We also got to make our own Shimmercube palettes. I'was very excited about this because I never liked all colors released in one set up until now, so I never purchased them. I made one with mostly warm colors, and one with cool ones, but I intend to mix these up!
Big jars full of Shimmercubes!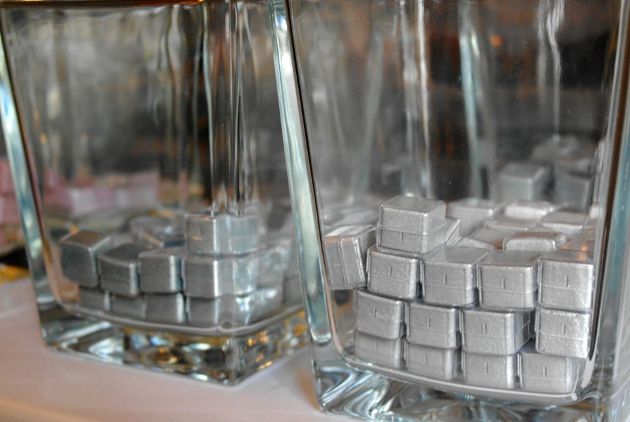 This is what I came up with. I especially love the white highlighting color and the dark brown, which have the best color payoff. These eyeshadows leave you with a soft color and a lot of shimmer rather than a lot of pigment. This makes them easy to work with for a quick wash of color on the lid, but I don't think I will be reaching for these when I'm in the mood for a bright, dark look. I have used them quite a lot and am very happy with them though.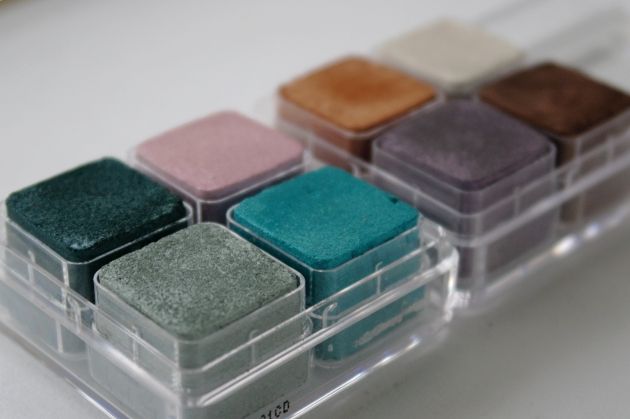 I also got a skin analysis which required for my base make-up to be removed. After that I had to wait barefaced for 45 minutes to have my make-up done again, which was quite embarrasing. On top of that I got a very pale under eye-concealer, and a way too dark bronzer on top of my cheekbones, resulting in the dreaded reverse panda look. I ran to the bathroom and rubbed my face like a madwoman until I looked normal again.
All's well that ends well, but I will think twice before ever trusting anyone with my make-up again :p
Some new products that have already been launched are the beautifying oils and the scented hand sanitizers. I got to try a coconut hand sanitizer and the Shea beautifying oil, but you'll read all about those in a seperate post in a while!
Thank you to The Body Shop for this opportunity!
I hope you liked my little report!
Did anything catch your interest?
Silke