When it comes to make-up I am not easily impressed by luxurious packaging. I want the actual make-up to impress me, and an overly fancy exterior only seems like a waste of money to me (and everything gets scratched when I carry it with me anyways). This all put aside, I had a gift voucher to spend and I NEEDED another red lipstick. After a huge swatchfest, I found this gorgeous shade of deep raspberry red.
Read on for more pictures and my review!
Rouge automatique lipsticks come in a very gadgety tube. You have to slide down a button, which makes the lid slide into the bullet and the lipstick pop out. Although I was hesitant to liking this for the packaging, I have to admit that it has some advantages: you can't lose your lid in your purse (happened to me a few times), and you only need one hand to apply it. Awesome for touch-ups.
Here's a picture taken in indirect daylight where I just applied it.
You can see the product list for my other make-up
here
.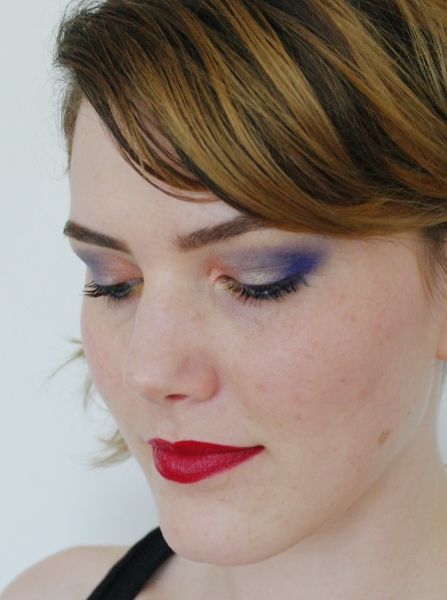 About the lipstick:
The formula is amazing and it is so hard to describe the finish or compare it to other lipsticks I own. It's not glossy or shimmery but slightly shiny and glowy, so I suppose it has a satin finish. It feels creamy like a good lipbalm and it doesn't feel drying at all. You only need one swipe for perfect coverage, and because it is so pigmented it also looks great when you lightly dab it on.
It is definitely longlasting in my book. Five hours later I'm left with a perfect even stain, although it is a lot more matte and it faded a little bit more on the inside of my lips. It only takes a quick dab on the centre of the lips to freshen it up again. Even though it applies creamy, it didn't feather at all.
I didn't test any other shades, but Vega is raspberry scented. I love it, because it doesn't smell as synthetic as most lipsticks.
This is a shade that I can see myself wearing a lot in my free time, but I don't think I would have splurged on it this easily if I hadn't received a gift voucher. It costs around
€
30 here.
What is your favorite lipstick?
Thanks for reading!
Silke