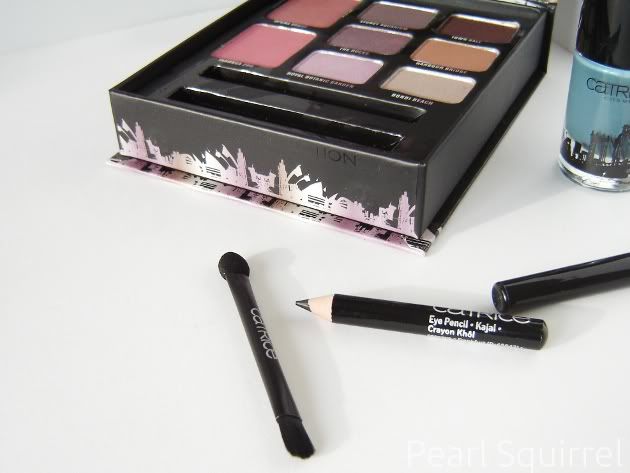 The last few limited edition collections that Catrice released were pretty disappointing, but when I first read about this one I instantly wanted to jump on my bike and ride to the store. Unfortunately I was sick that day and had no time to go shopping the days after so by the time I got to the store there were only 3 palettes and 2 nail polishes left.
I went home with the Sidney palette and New York polish, and even though I only spent €9,5, I felt as if I just acquired a rare luxurious treasure. That's marketing for you..
The collection consist of 4 palettes and 4 polishes based on London, New York, Sidney and Berlin. The palettes contain 2 blush shades, 6 eyeshadows, a black kohl pencil and a brush. I swatched them all in the store and the only one that let me down a bit is the London palette.
Most of the eyeshadows are quite sheer to be honest. They are hard to build up and blend, so a good eyeshadow base is really a must. I do love the colors, there's a good mix of earthy tones and purples, great for autumn!
The blushes have a good formula, they aren't too soft and have just the right amount of pigmentation. Taronga Zoo is a warm matte pink and
Opera house
is a warm berry with gold shimmer, which reminds me a bit of Nars Outlaw in the pan.
The kohl pencil is probably the best thing in this palette, it's creamy and very pigmented.