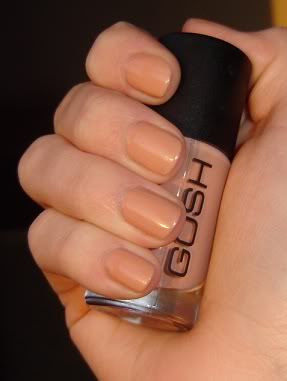 I bought this nail polish a while ago in search of a nice nude polish. I wasn't sure about the colour on my skin tone but I bought it anyway because it was in sale. Let's see what I think about it!
Miss Sweety (595) is a peachy nude creme polish. I'm not a big fan of the formula, it turns goopy very fast and takes ages to dry. I needed 3 layers to even out the streaks. And unless you enjoy sitting still for half an hour, I would suggest a fast drying top coat.
On the positive side: it has great lasting power. I only got tipwear after 4 days, and I use my hands and nails all day at work so I am pretty impressed! You can see some slight tipwear on the picture, taken on the third day without a top coat. In terms of wear this is definitely one of my better drugstore polishes.
Pearl Squirrel