I have been hearing a lot of people rave about mineral foundation but assumed that a powder foundation would look horribly matte on my dry skin. I never really bothered to look into it until I read about it on Killercolours a few months ago. After reading many reviews I decided to place an order at http://madminerals.org/.
To my surprise my package arrived only 6 days later!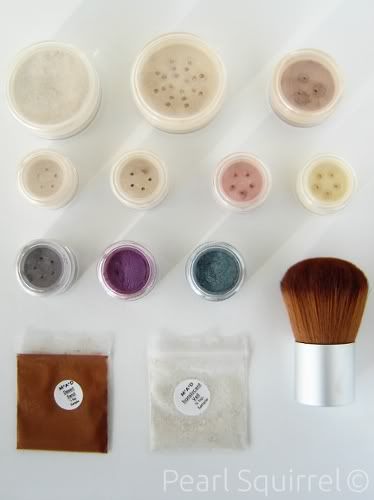 I
ordered the 5 piece deluxe started kit + superior kabuki and the 5 piece deluxe sample starter kit containing:
20 gr. Mineral foundation in Fair
20 gr. Aloe veil Finishing powder
10 gr. Bronzer in Sheer tan matte
5gr. samples:
Multi Use Mineral Colors in Daydreamer, Drama queen and Spoiled
Mineral foundation in Fairly light
Satin glow Finishing powder
Corrector in Pink and Yellow
I also received 1/4 tbsp samples of Desert sand and Translucent veil finishing powder
Foundation & Finishing powders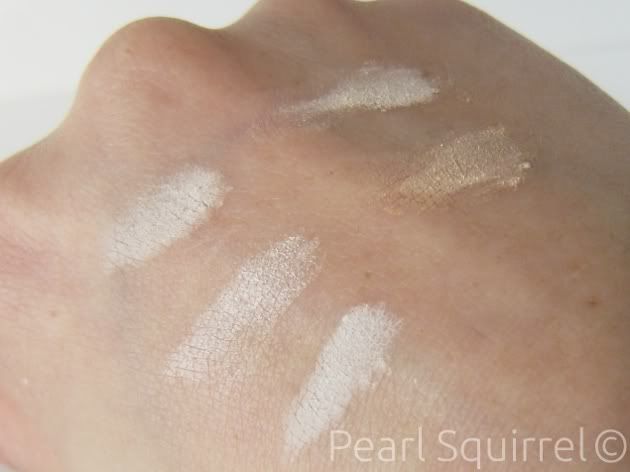 Top row left to right: Fair and Fairly light
Bottom row: Aloe veil, Satin glow, Translucent veil
I'm quite happy with my shade choices! My face is slightly more tanned than my neck, and with Fair my face and neck skin tone really match. Fairly light will make a good shade for summer. The foundation has a semi-matte satiny finish. To my pleasant surprise it doesn't enhance dry patches, as long as I use a good moisturizer. I conceal my under eye circles and any redness with a good liquid concealer and then layer on the foundation and finishing powder, and it gives me a natural looking even skin tone. It's a lot nicer to my skin than all regular liquid foundations I have tried before, and I have noticeably less blemishes after only 2 weeks of use. Feels great :)
According to MAD minerals Aloe veil is a semi-matte finish, it has a slight glow and really gives your skin a natural healthy sheen without being too shiny. On top of that it contains aloe vera powder which makes is especially suitable for sensitive skin. I love it!
Satin glow has some more shine to it, it's great for using as a subtle highlighter. I haven't tried it on my entire face because my jar is so tiny, but I plan on ordering a full-size jar of this in the near future.
Translucent veil is very matte. This one doesn't seem to work with my skin at all, it's far too matte for my liking and it makes it more obvious that I'm wearing make-up.
I'll be reviewing the correctors and multi use mineral colors in a separate post soon!
Pearl Squirrel.