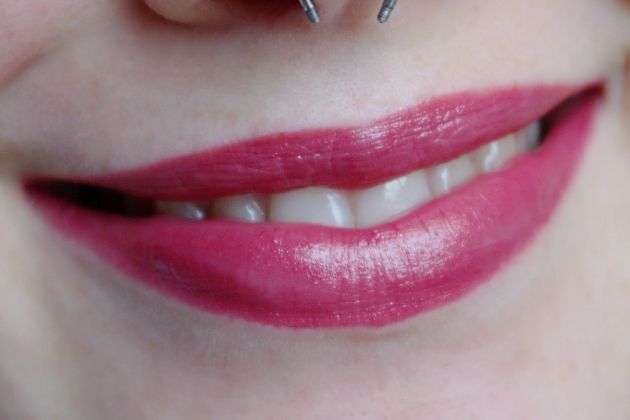 My first and favorite Catrice lipstick was Ginger and Fred. It's a muted berry with a subtle golden sheen, and it works wonders for my pale skin. It's a very flattering color that doesn't emphasize redness in my skin or the yellow in my teeth the way many cooler pinks tend to.
It wears for an hour or 3 and it fades pretty evenly, at least on me. So it's no disaster if you aren't able to reapply very often. The formula is not moisturizing, but it doesn't dry your lips either. Unfortunately the golden shimmer is slightly gritty, and that's pretty much the biggest downside of this lipstick. I really enjoy wearing this, but you might want to test it first if you are easily bothered by gritty finishes. Like all ultimate color lipsticks, it comes in a
sturdy black tube
. They don't open on their own and don't get scratched or worn off very easily: very purse-proof. :)
Catrice increased their prices and these lipsticks now cost €3,99: still cheap compared to other drugstore brands.
Do you own any Catrice lipsticks?
What is your favorite shade?
Silke