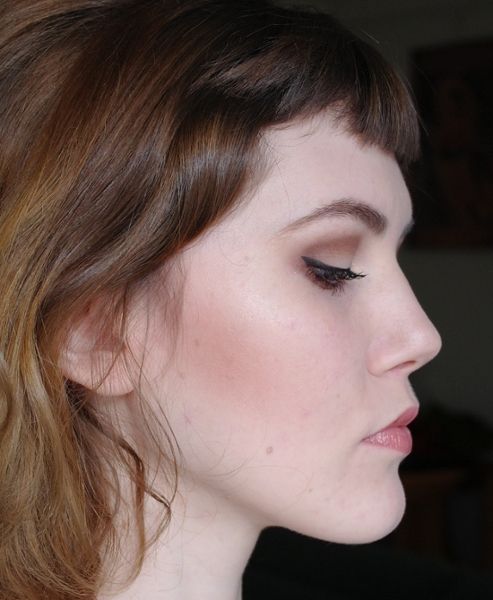 This look is really easy and takes little time, so I thought I'd share it in case anyone else is feeling as uninspired as I usually do early in the morning!
I've mostly used mattes and neutral colors, but topped it off with a glowy finishing powder and a natural dark nude gloss. All products are either drugstore buys or mineral make-up bought online, and everything is very budget-friendly.
I forgot that I used Urban decay's eyeshadow primer, but Essence has a very nice and affordable one too. To achieve the soft smokey look I first applied a light matte shade all over the lid and browbone and then layered the darker colors on top with a fluffy blending brush.
Product list:
Face:
Catrice allround concealer palette
MAD minerals foundation in Fair
Opera House blush (Catrice sidney palette)
MAD minerals satin glow finishing powder
MAD minerals flasg glow (highlighter on cheekbone)
Eyes:
Bring me frosted cake eyeshadow (Catrice mono)
Harbour bridge eyeshadow (Catrice's Sidney palette)
Town hall eyeshadow (Catrice's Sidney palette)
Coffee multi-use color (MAD minerals)
Super fine eye-liner pen (Catrice spectacul-art)
Essence I love extreme volume mascara
Lips:
Catrice colour show lip gloss in No. 9 is mine
The tan blush looks a little bit tacky on my pale skin, but I decided I like it anyway. I can't help but like my blush bold and visible :) I wore a similar look during the most part of winter but I actually made this look back in november on one on the last days of actual sunlight. We're finally starting to get some good light again here in Belgium so I will probably be posting swatches and looks more regularly.
Thanks for reading!