A few months ago I ordered some of One Hand Washes The Other's solid scents from the Halloween collection. I am really sensitive to smells, and some days it can get so overwhelming that I can get a migraine from silly things like cleaning products or even the perfume I have been wearing daily for years. In other words: I am
very
finicky about perfume.
Trying perfumes in stores is too much for me, so it was nice to be able to order scents online based on the descriptions. The solid scents only cost $5,50, so it's not a massive splurge to try some. There is also an option to order sample vials for only $2,50. The halloween collection was limited in time (currently the
winter
collection is up!), but there are still some left for sale in the
clearance section
.
Read on for my review!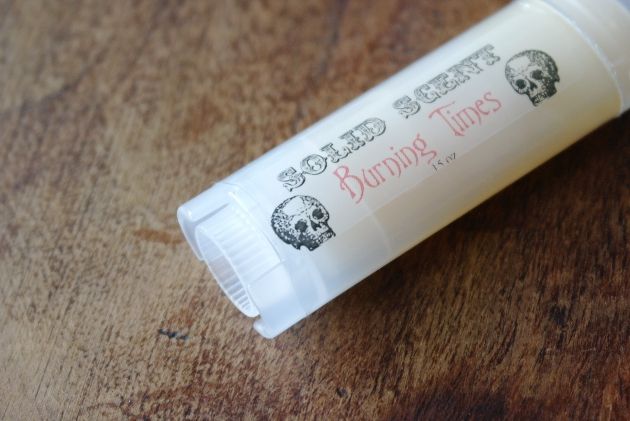 Burning Times: "Thou shalt not suffer a witch to live"; motivated by fear, or some would say, by greed, the execution of a with nearly always included the burning of her body, though the method of dispatch may have varied. Vanilla, Clove, Patchouli, Pink Peppercorn, a hint of Suede, Red Musk, Sandalwood, Cinnamon, Cedarwood, and the smoldering Embers of a thousand years.
Burning Times is a very warm spicy scent. Clove and cinnamon are the first notes I can detect, but the patchouli and sandalwood are more prominent in the drydown. Unlike the description there's something mysterious and welcoming about it, but it's definitely a dark scent. Unfortunately, this triggered a migraine twice so I haven't been able to wear it on myself much. I wish I could fast forward to the drydown! I considder this a unisex scent and I would love for my boyfriend to wear this, but he doesn't like perfume.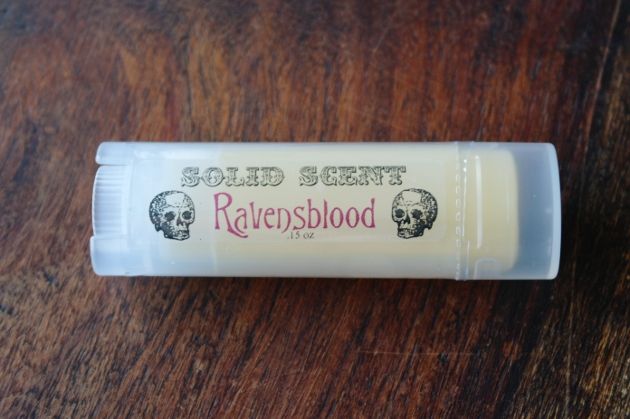 Ravensblood: The last blackberries of the year, dark musk, licorice spiked with clove, guiacwood, labdanum, sandalwood, patchouli, and a bright twist of lemon.
Ravensblood has kicked Hypnotic Poison of it's throne as my favorite perfume so far. The blackberries and licorice are initially very strong and make a surprisingly nice combination. The drydown leaves me with a really nice light incency smell. Sandalwood is most noticeable while patchouli and lemon give it a fresh herbal touch. The clove is a lot less dominant in this, so it didn't bother me at all. I have ordered a back-up of this one because my mother has claimed it. I am crossing my fingers for this to return for 2013's Halloween collection!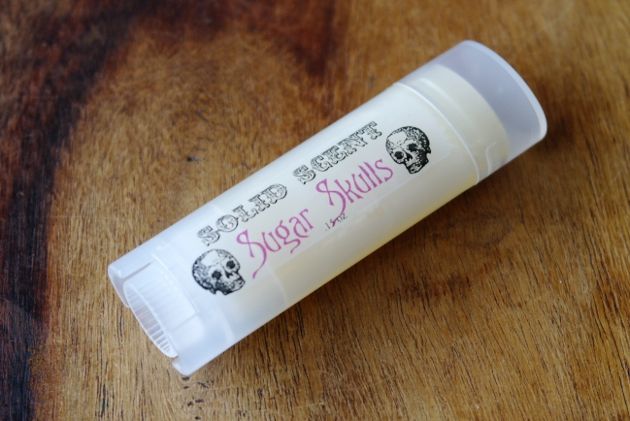 Sugar skulls: A custom fragrance created for a very wonderful customer, this is a blend inspired by Dia de los Muertos, or, the Day of the Dead. You'll smell sweet baked goods, vanilla cookies, anise, and roses- all the scents of a stroll through a Mexican neighborhood at that time of year.
Hot damn this smells nice! The anise is very strong and gives it a fresh touch, but this basically smells like cookies
.
It smells a bit like the taste of cookie dough (which is even better than cookies):
fingerlicking sweet! The rose scent is toned down and soft, and I notice it the most in the drydown. Whenever I wear this, people are sniffing and looking around to see where the smell comes from. I've had people wondering why on earth you would want to smell like delicious food and not be able to eat it. You certainly would not suspect it to be a perfume, so you have to be into foodie sweet scents to appreciate this.
Gracie: Little Gracie Watson. Dead at 6 of pneumonia, her ghost is said to still haunt her childhood home, the Pulaski House, in downtown Savannah, GA. Gracie's parents had a life-sized sculpture of her made, and you can visit her in Bonaventre Cemetery if you're so inclined. Be sure to bring flowers- Gracie loves flowers. Roast chestnuts, pumpkin, brown sugar, amber, tobacco leaf, vetiver, cassia, and lavender.
Chestnut and pumpkin in a perfume? I had to try this. Over here in Belgium, our pumpkin consumption is mostly limited to soup. Sweet dishes with pumpkin are not common here (I have never come across a pumpkin pie in my life!), so that makes this scent extra weird for me. I can definitely smell the pumpkin and brown sugar, and the smokey roast chestnuts. It's a sweet and warm scent, but too overwhelming for me. This scent fits the halloween theme perfectly, so although it is not for me I am really impressed with the complexity of this perfume.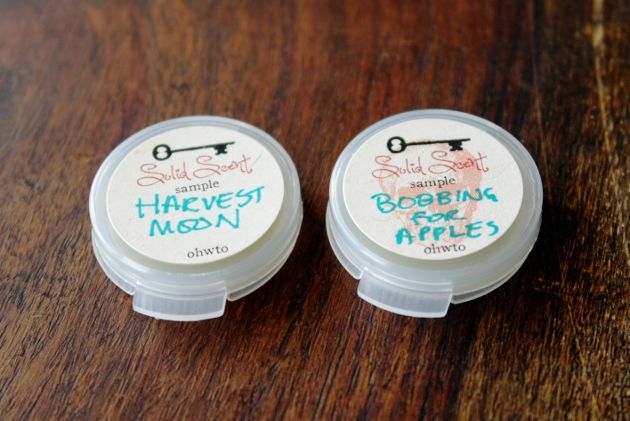 Harvest moon: A circle of dandelions in the grass, spiced blackberries, tart lychee, red tea, sandalwood, and hints of floral amber.
This is a really fresh and fruity with an exotic twist. The blend of scents make it really hard to identify what's in it so without reading the description I could have sworn there is green apple in it... but it's not.
Bobbling for apples: A game traditionally played at Halloween parties, bobbing for apples involves a water-filled tub and apples floating in it, waiting for you to pick them up with your teeth. Fun! Fresh apples, Apple skin, Bonfire smoke, Hay bales, and Tonka beans.
If you like apples this is a must have. The apple scent is really strong and sweet, and there is a sharp sour freshness about it that I really like. It dries down to a softer warmer scent when the tonka beans take over. This reminds me of late summer evenings, it almost makes me nostalgic.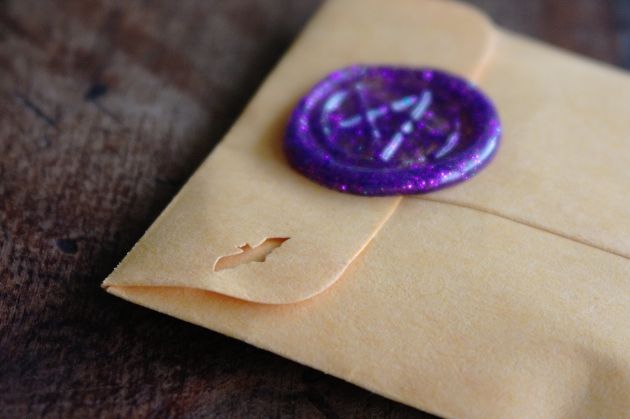 All of these perfumes are very long-lasting on me, although some of the top notes fade quicker than others. I like how the scents evolve and wear, but with these twist-up tubes you can easily re-apply during the day if you prefer the initial scent.
More OHWTO reviews coming soon, I already placed my third order. :) You can see some more pictures of the packaging details
here
.
Silke