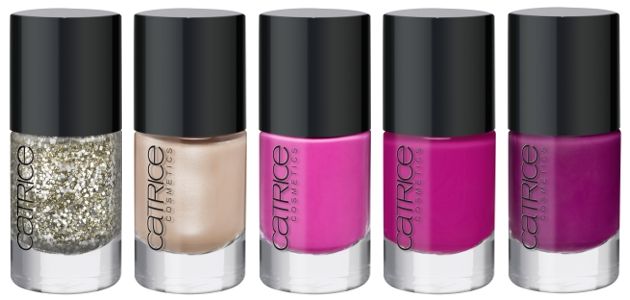 It's been a while, but Catrice is coming up with another limited edition collection that really tickles my fancy! The SpecatculART collection is based on crossover fashion where the beauty of India meets French couture. I'm not really seeing the backstory here apart from the gold and brights.. but the products are gorgeous and I like the subtle artwork. Take a look for yourself!
Catrice's nailpolishes are usually great quality for such a low price (€2,69). My collection is about 50% catrice and most polishes give me great coverage with 2 coats. Some take 3 coats and a little more time to dry, but they don't chip easily on me. I really like the dark berry color and the gold leaf top coat.
The 'gold leaf' top coat is actually just a glitter topcoat with hexagon and irregular shaped glitters in different sizes. I think they just named it this because of the popular OPI polish with real gold leaf that has just been released. It's very pretty nevertheless, this one is on my wishlist!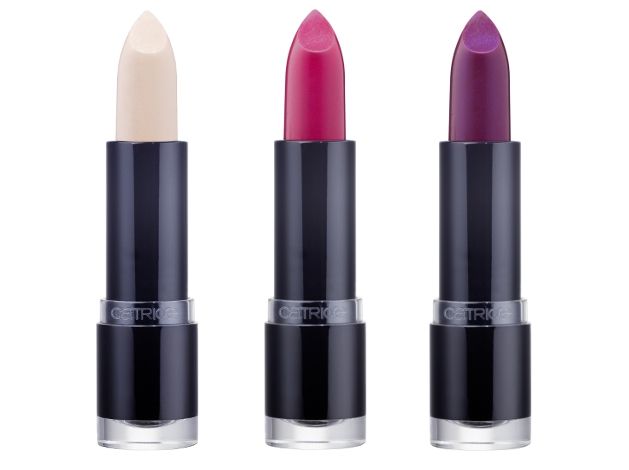 I'm also looking forward to these Sheer Lip Colour lipsticks! They have a transparant gel texture, so I'm expecting them to be very wearable and soft on the lips. On top of that they have a spf 10. As usual very reasonably priced at €3,99.
These Pure Chrome eyeshadows give you a high shine metalic finish. These are supposed to be the highlight of the collection so I'm looking forward to swatching them in store. I like the textured surface and the sleek transparent packaging! Price: €3,99.
They also added a highlighter to the collection. I love to wear highlighter all year round, but winter is especially great for playing with different textures and finishes since there's so little natural light around. It costs €4,59.
The same thing happened to the color of this mousse blush, it was brighter in the original picture. I swatched some of those mousse blushes in store in the past, and the texture seemed nice to work with. This particular one promises to give you a gorgeous glow and costs €3,99.
This Superfine eyeliner pen costs €2,99 and has a felt tip. I prefer liquid or gel liner with a brush, but felt tips are great if you don't have a steady hand since they provide more control.
Last but not least they added a set of individual lashes! I prefer this kind over a full strip of lashes because they give a much more natural effect when you add them where needed. I like to add a few strands in the outer corners of my eyes. These cost €3,99
In Belgium and the Netherlands this collection will be sold from november till half of december. Check catrice's
website
for the availability in your country!
Did you see anything you'd like?
Silke