I have swatched most of the
MAD Minerals
finishing powders and will do a short review on all of them. The only ones I am missing are the SPF powder and Primitive, which is a matte powder that serves as a primer as well as a finishing powder. Read on for more pictures and my review!
I only own a full size of aloe veil and a 5gr jar of satin glow, the other powders came as free 1/4 tsp sample baggies with the orders I placed. I have used all of the samples a couple of times, but I can't make any statements on the long term effect on my skin. I'm going to review these from most matte to most shiny.
Translucent veil:
mica, kaolin clay
A very matte powder with great oil absorbing capacities. It is white but goes on transparant when blended into the skin. As you can see in the swatch it leaves skin appearing very smooth and pores less visible. It's not suitable for dry skin as it tends to enhance any dry patches, but I think it would look great on people with oily skin. This one has a distinct clay smell.
Aloe veil:
mica, aloe barbadensis powder, titanium dioxide, iron oxides
This powder has a great balance between oil control and leaving your skin with a natural sheen. It leaves your skin looking more even toned and smooth. My skin is rather dry with an oily t-zone, and this works great for mattifying while still looking natural.
Satin glow:
mica, titanium dioxide, iron oxides
Satin glow provides a gorgeous lit from within kind of glow. It is a lot more apparent than the sheen in aloe veil, but you can still get away with using it all over your face without looking overly shiny. It blurs away imperfections and brings some life back into dull skin, while still being slightly oil absorbing. If you have very oily skin, this will not be mattifying enough for you.
Silk veil:
mica, iron oxides
Silk veil is very similar to satin glow, but it doesn't contain titanium dioxide and it lacks the white base. It is skin-toned and would also be suitable for people with darker skintones. The description the MAD minerals' website states that this is a matte powder, but I really disagree. Like satin glow, the sheen in silk veil blurs away imperfections and gives the skin a healthy glow.
Flash glow:
mica, titanium dioxide, iron oxides
This is a gorgeous higlighting powder to use on your cheekbones and your browbone, but it's also great for evening out your skintone. It leaves your skin looking airbrushed into a glowy perfection, but you need to be carefull not to apply too much. Because my skin is quite dry, I can use this on top of my mineral foundation. People with very oily skin might want to use a more mattifying powder underneath. There are very finy shimmer particles in this, but on the skin it just appears glowy without glitter.
Pink icing:
mica, maranta arundinacea (arrowroot powder), titanium dioxide, tin oxide, iron oxide
Pink icing has a finish very similar to flash glow in the swatches
,
but blended out it looks very different. This doesn't have such a strong glowy base, and has more visible sparkles that resemble ice crystals. It doesn't even out my skintone as well as the other powders, but it does bring some life into dull skin. I can imagine this finish working great as a highlighter for oily skin, since it lacks the shine that makes skin appear even more oily. It also looks great layered over a matte blush. The pink tone is hardly noticeable when blended out.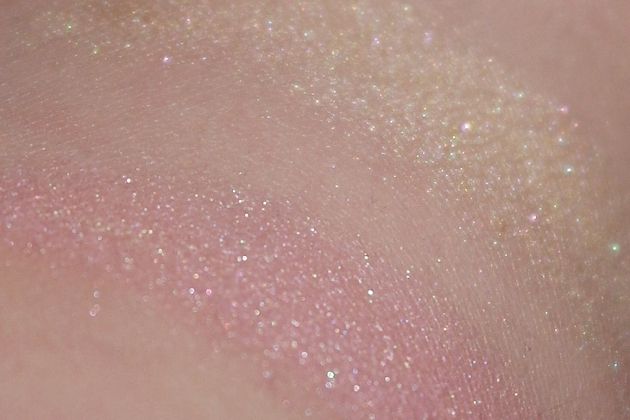 Pink icing and flash glow, blurry to show off the shinies!
My favorites would be aloe veil and flash glow!
Aloe veil is perfect for my skin type. I have dry sensitive skin with a slightly oily t-zone. Very matte powders like translucent veil dry out my skin too much, leaving it irritated and flaky. Flash glow is just gorgeous, I am a sucker for highlighters and this is the prettiest I've ran into so far. It evens out my skintone unlike any other powder.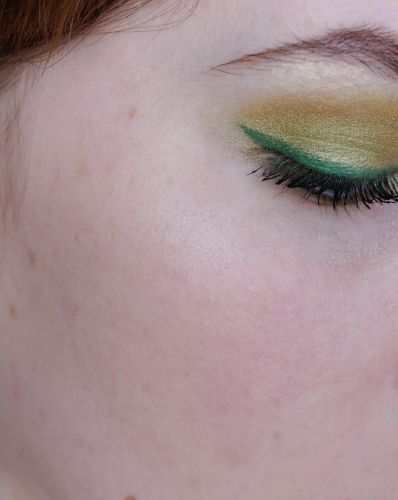 Flash glow applied lightly.
Prices go from $2 for a sample to $16 for a 30gr jar. You can buy these
here
. There is no actual silk in silk veil, so these are all vegan.
Do you own any of these? Which one appeals to you the most?
I am planning on getting a refill of aloe veil and full sizes of flash flow and satin glow :)
Silke