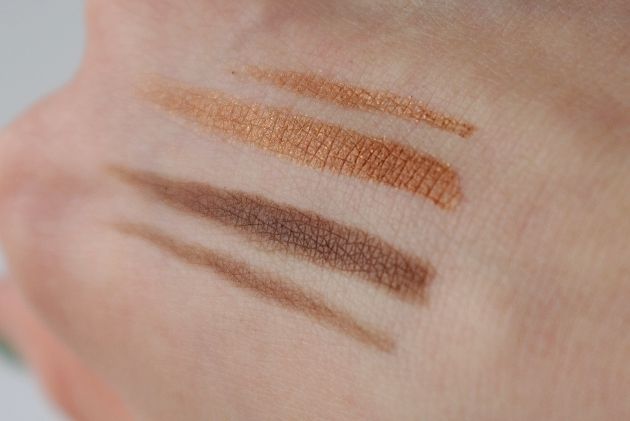 I have religiously used a black eyepencil nearly daily for years, and it wasn't until I bleached my hair to a platinum blonde that I felt like I this needed to change. I bought these brown pencils from Yves Rocher, looking for something that wouldn't look so harsh in contrast with my pale hair.
The dark brown is the Luminelle Crayon Khol in 015 Brun, it goes on creamy enough not to irritate my skin and it's still smudgeable, but it stays put very well after that.
The lighter brown is the 3 in 1 Eye Pencil from the Couleurs nature collection in 03 Cuivre. It is meant for the waterline, to line the outer lashline and as an eyeshadow. This one is super creamy and sparkly. It looks great on the lower lashline or smudged all over the lid, providing a sparkly copper base to apply eyeshadow on. I also use it as a liner for the upper lashline, but it tends to transfer into the crease because it's so creamy.
I paid about 2-4 euro for these. Yves Rocher often has discounts on their make-up, and the prices are usually lower in their
webshop
.
Do you like Yves Rocher cosmetics?
What are your favorites?
Thanks for reading!
Silke