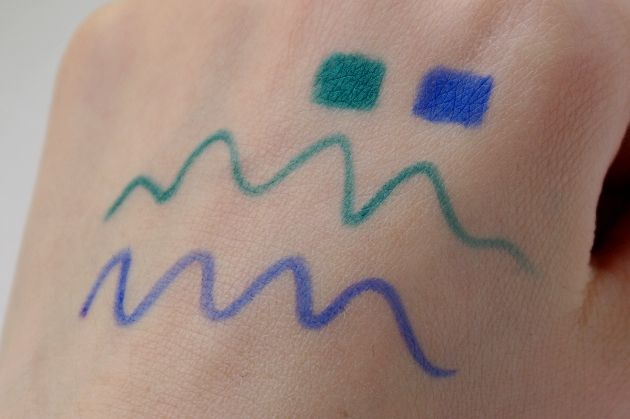 Another thing that I need more of in my life, are bright colored eyepencils. I often foil my eyeshadows to use as a bright eyeliner, but pencils are fun to layer eyeshadow on, and the effect is totally different. Today I'll show you my waterproof Eyepencils from Yves Rocher!
You better be quick if you want to blend these, because they don't budge much as soon as they're dry. They are very comfortable to apply, but you need a good remover for waterproof make-up to get them off. The biggest downside I can think of, it that they come in a twist-up pencil, so you can't sharpen them.
The blue one is completely matte and needs some layering to be completely opaque. I used it in
this
look:
You can't really tell in
this
look because I smudged it, but the green pencil has some fine sparkles.
02 Bleu and 03 Vert
The prices vary, but I bought these for about 5 euro on sale. Yves Rocher often has sales on their cosmetics, so it might be worth waiting for one of those! You can also buy these on the
Yves Rocher webshop.
What are your favorite eyepencils?
Silke