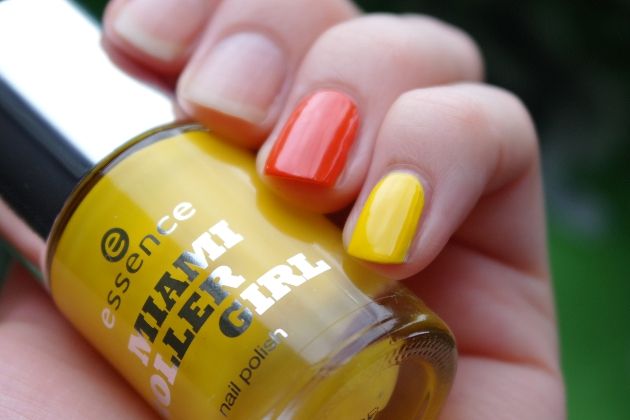 Miami heat (orange) and Bienvenido a Miami (yellow).
I am trying to avoid drugstores because I always end up getting struck by an impulse of shopping madness as soon as I walk past the cosmetics, and I am trying to spend my money wisely these days. That being said, I just went to buy a can of Batiste XXL volume (which is awesome), and a woman with a stroller was blocking the route to the tills, so I had no choice but to walk past the Essence counter.. I spotted a display for the Miami Rollergirl collection with only one blush left, and a few bottles of polish. Coincidence or not, yellow and orange nailpolish were
actually
on my wishlist for quite some time now, so I couldn't resist these for only
€
1,79.
The ombre blush cost €2,79 and looked so pretty that I didn't need much time to think it over either.
Bienvenido a Miami was surprisingly opaque for being a bright yellow. It was a bit streaky so I ended up needing 2 to 3 coats. Miami Heat is quite sheer and needs at least 3 coats to look perfect, but it dried a lot faster than the yellow one. Not the greatest formula, but for that price I'm not complaining.
Next up are the blush swatches!
Did you buy anything from this collection? What are your favorites?
Silke