I was cleaning up my bathroom shelve and figured I could take some pictures while I was at it so you can have a little peek. These are mostly products I use every day or on very regular bases, my other products are in a small drawer. Not the most practical storage (although my hot cocoa cup fits all my brushes perfectly :p), but I'm working on it! My brushes were really dirty because I had just tried a Jersey shore-style make-up to joke around with a friend of mine :)
My signature old lady scent
Poor baby seahorse, but very cute. My mom bought this at a flea market and gave it to me as a present.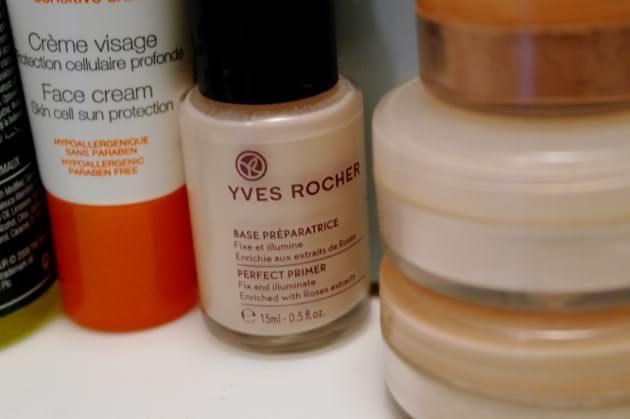 Illuminating primer from Yves Rocher that I am trying out. Review coming up!
My current favorite under-eye concealer! And Chanel Vitalumiere aqua, which I'm going to review soon.
Maybelline Fit me foundation in 115. It's a bit too dark for me but great for when I tanned a bit.
The body shop bottle was empty and is now filled with oil. I clean my face with it using the oil cleanse method. The other jars are my MAD minerals foundation, finishing powder and bronzer, which I still use daily.
I am currently having a weird skin reaction so I won't be posting many looks or reviews for a while, but as soon as it gets better I'll review the foundations and primer.
Thanks for reading everyone. I just reached 20 followers and it means a lot to me that people are actually reading this :)
Silke