I am feeling a bit self-conscious about my skin and hair (extreme urge to cut it all off!) lately, so I didn't make any looks that I like enough to share. Wednesday I went shopping for some make-up to cheer myself up. I walked into a store to buy a new piercing for my septum, and I walked out with fuchsia hairdye (manic panic fuchsia shock). I was feeling wild that day so I went home and dyed my hair!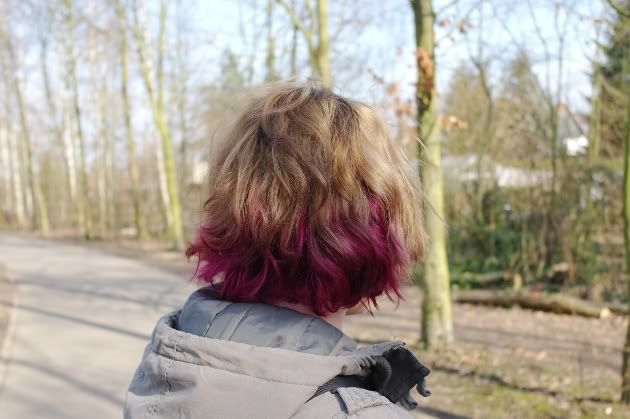 Didn't bother to style my hair..
I still don't know what got into me.. My boyfriend turned 30 yesterday and has been feeling like an old man because of it lately, and I think it has been wearing off on me and this is some sort of very premature midlife crisis. Am I making any sense?
So now my hair is partly fuchsia, and I am still not pleased. I was planning on growing my hair long again and keeping my natural color, but my hair is so poofy and messy and hard to maintain. I'm going to do a post on all the different cuts and colors I've had soon, and then decide what I want next!
I get most of my hairstyle ideas from
Wip Hairport's flickr page
. It's a salon based in Lisbon, and I'm dying to go there some day to give them carte blanche on my hair! They are very creative and do great haircuts for non-sleek hair too.
I'm curious to hear where you find hair style inspiration!
How do you deal with bad hair days?
Silke