Essence released a limited edition collection this winter called Crystalliced. The collection is all about pastels and special finishes like glitter, frost and flakies. I picked up these lipglosses (and a nailpolish that was disappointingly sheer, so ignore it), and I absolutely love them!
Read on for my review and a LOT of swatches!
Left to right: 02 Diamond dust - 01 It's a snow-womans' world - 03 Ice crystals on my window
These lipglosses each contain 0,23 fl. oz. or 7ml and only cost
€
1,79. The packaging is sturdy and clean.
The texture of these is very similar to Mac's lipglasses. It is very thick and sticky and it lasts for hours. I love the feeling on my lips, and best of all: it smells AND tastes great. Like raspberries, and it actually tastes like them too, very sweet. .
The Colors:
01 Diamond dust has a light grey pastel greenish base with tiny white glitters. They are very soft and not gritty.
02 It's a snow-womans' world is a purple taupe base with tiny fuchsia pink flakies. It has a lovely violet sheen to it and is almost irridiscent.
03 Ice crystals on my window is a milky off-white base with tiny orange flakies.
They look like a glowy nude on the lips, very flattering even on pale skin. It's a snow-womans' world leaves a subtle violet hue, while Ice crystals on my window is just a milky neutral nude. Diamond dust is a lot more sparkly, but I haven't made a lip swatch of it yet and I think it is the least special of the three.
Swatches!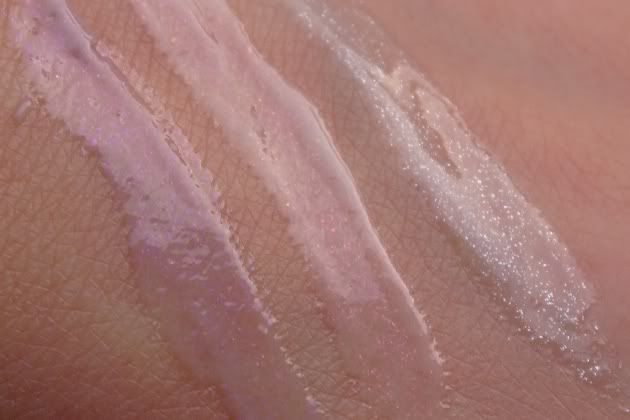 This cheesy glow is actual sunlight, not a filter :p Look at those awesome flakies!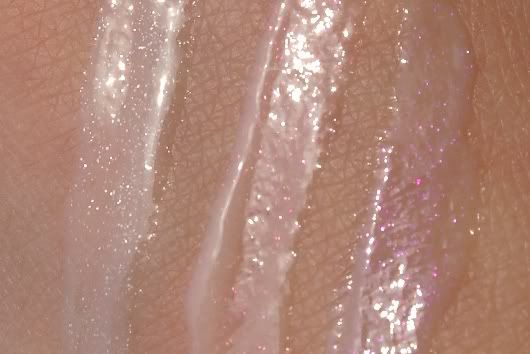 By the time I wanted to do lipswatches the sun had already set too much.. The flakies are less visible on the lips, but still it has a glowy lit from within finish!
It's a snow-womans' world, with violet/fuchsia sparkles




Ice crystals on my window, with yellow/orange sparkles
These are my first essence lipglosses and I was pleasantly surprised by them. I bought a backup of it's a snow-woman's world and ice crystals on my window cause I liked them so much.
I also bought 2 of them for a future give-away. I know I don't have many readers yet but they were LE and so cute that they need to be shared. More about this in a while :)
How do you like these?
Have you tried any essence products before?
Silke