After having an allergic reactions to some store bought facemasks a few times in the past, I decided to make them myself. I use this honey and yoghurt mixture very often if my skin is dry, and I feel like it gives a nice boost and leaves my skin fresh and glowy. It is not the kind of facemask that does miracles, but it is by no means aggressive and that's what matters the most to my skin type. This is also great if you get sunburn!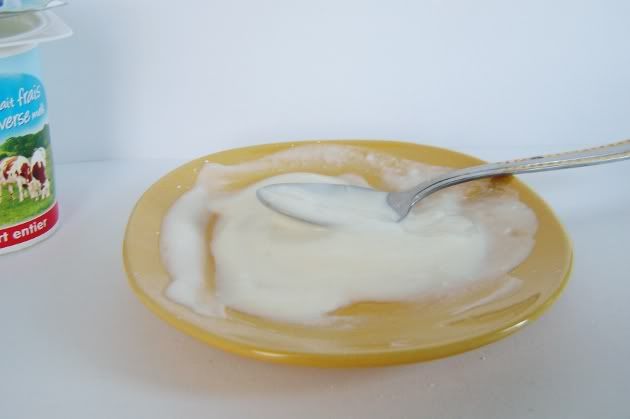 The mild acids in the yoghurt help soften skin and unclog pores. Honey contains all sorts of things that are good for your skin, it has anti-inflammatory properties and it helps heal and soothe your skin. I have really sensitive skin (I used to have mild acne and now the occasional pimples) and this mixture causes a tingly feeling on me, but it feels so smooth and soft afterwards!
I mix 1 teaspoon of full fat yoghurt and 1 teaspoon of non-runny real honey (make sure you aren't using the fake honey flavored glucose syrup!) and apply it to my clean face. It tends to drip so be careful with your clothing, and make sure it doesn't run in your eyes. I leave it on for about 10-15 minutes and then rinse it off.
I used to do this while taking a bath but I stopped doing that ever since I heard that your facial skin is the only place for transpiration while you're in the tub, and it would have a reversed effect if you would block your pores with a face mask. Not sure if it is true, but it sounds logical to me..
Do you like using facemasks?
And do you make them yourself or buy them?
Silke