Swatches taken during sunset
Our local H&M doesn't have a full make-up counter, but once in a while they offer a few products close to the till, so cheap that I can never resist them. Sneaky marketing, H&M! During my last visit I bought two red lipglosses for only €0,95 each.
Read on for more swatches and my review!
These lipglosses come in a regular lipgloss tube with spongetip applicator. The lid has a cute horse print, and I especially like bordeaux nights' tube because the gold makes it look a bit more classy and stylish.
Some more swatches: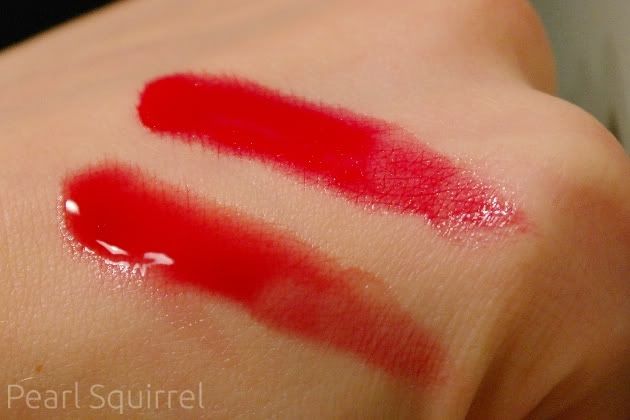 Top: Right red, bottom: Bordeaux nights. Taken in artificial light after 5 minutes on the skin
Lip swatches:
Bordeaux nights
Bordeaux nights
Right Red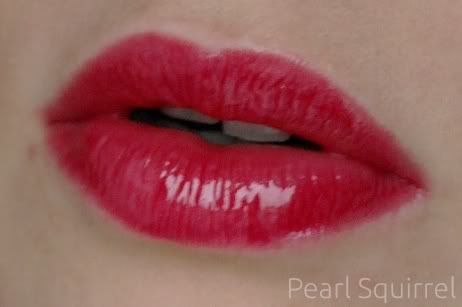 Right Red. See that horizontal line running over my upper lip? That's because I pressed my lips together.
These lipglosses feel quite slippery on the lips, and are a lot less sticky than mac lipglasses to give an example, but just as thick. The smell is sweet but very synthetic. It smells a bit like vanilla, but it reminds me most of
advocaat
. (Egg liqueur for those that don't know it) The formula is not hydrating, but I don't think it's especially drying either.
Right red is a blue toned red and contains subtle shimmer. It tends to set in lines and bleed outside of my lipline a bit. It does not stay in place: when you drink, eat or press your lips together it ends up looking blotchy and streaky in no time. As you can see in the swatches above, it really accentuates the texture of my skin, and it does the same thing to my (dry) lips as it wears off. I'm not a big fan of this one. I think it would look great on top of a red lip pencil though, so I have no regrets buying it. At least not for that price!
Bordeaux nights is a raspberry pink gloss. It is very dark in the tube but applies lighter than Right red. It leaves a transparent flush of color and has a great glossy finish. It does set in the lines of my lips but for some reason I think it looks nice. When it wears off (after about 2 hours) it just fades away without looking weird. I really likes this one!
Isn't that first swatch picture pretty? Me and my camera are starting to get along a bit better. Now I want to photograph all of my shimmery make-up :)
Have you tried any H&M make-up before?
Silke