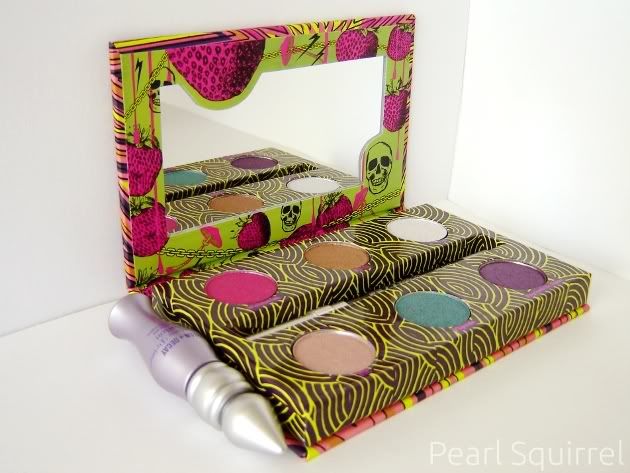 My first Urban decay palette!
I actually had the opportunity to purchase the naked palette, but am not that big on nudes and figured that I would enjoy this palette much more. I think the name suits this palette very well, you can really make a lot of bright and fun and looks with it.
Read on for swatches and my opinion on this palette!
Back of the box in which the palette was packaged. Flipside is a lot less green in real life and Woodstock is more pink.
The palette in it's holder (how do you call that?).
Packaging
The palette is made of cardboard and it closes with a magnet. The outer layer is satiny, so it does not hold fingerprints, and you're still able to clean it. It's actually quite sturdy, I don't mind the material at all. I like palettes like these, it is not too big, has a mirror inside and it opens and closes easily. I just hate products that you almost have to wreck to open them! Also nice is the velvet-coated plastic holder, I actually store my palette in this to prevent it from getting damaged.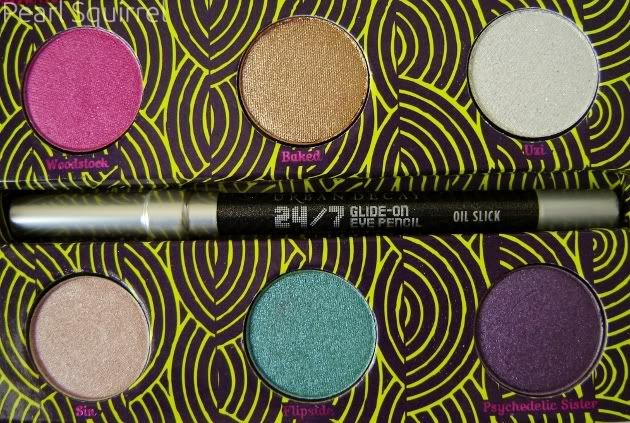 Still untouched :)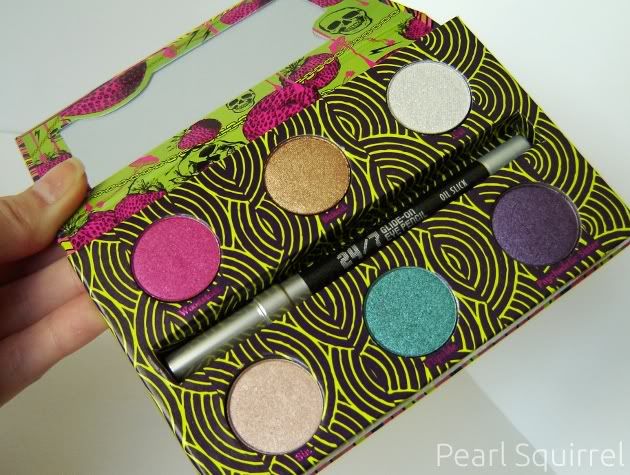 You get a pretty good idea of the sheen in this picture. All eyeshadows are shiny, but woodstock is more of a satin finish.
Swatches!
All of these swatches were made dry on top of urban decay primer potion, taken in indirect daylight.
Look at those chunky glitters in Uzi.
As you might notice in the pictures, these eyeshadows are quite soft. You only need to dab in your brush lightly or you will end up with some excess loose eyeshadow.
My favorites are Woodstock, Baked and Sin, I've been using those a lot! Baked and Sin are the most pigmented and apply like a dream. Woodstock is a great vibrant fuchsia pink, and is very pigmented as well.
Flipside and Psychedelic Sister are both a bit disappointing in terms of color payoff. You can still build up the color with Psychedelic sister, but Flipside tends to stay patchy and uneven and I haven't used this much because of that.
And last the odd one out:
Uzi
. I know a lot of people hate this color, because of the avalanche of sparkly fallout it causes, but I am not giving up on it yet! I have used it in
this
look, mixed with a drop of water, and I thought the end result was really nice. It is important to finish with your foundation, because you will have to wipe away the glitters first. I am going to try this with a mixing medium next, and I might wear it in a look on new years eve.
I forgot to swatch oil slick, the eyeliner pencil that is included in the palette, but it's a creamy black with silver glitters. I really like this palette, because you can easily make a daytime or nighttime look with it and there's tons of possibilities. The color that I like the least is Flipside, although I will probably be using it more often than Uzi.
The downside for many people might be that these colors have all been released in other palette's or in Urban Decays permanent range, but this is a great palette for an Urban Decay noob like myself!
What are your favorite Urban Decay products?
Silke