Last year I found one that seems to keep my skin in an acceptable state, but off course I want it to look even better, so I started looking for alternatives. On my quest for the perfect moisturizer I came across Yes To Carrots' C through the night moisturizing night cream, and put it to the test!
Let me start with describing my skin type. I have very thin sensitive skin, with dry patches around my nose, forehead and chin, and although my skin never gets really oily I get some occasional spots every month. When I step out of the shower I need to use a moisturizer as soon as possible, or my skin turns into a dry flaky mess. I also seem to react to certain cosmetics, causing me to get redness and rashes. Keep this in mind when you read on!
On to my review :)


The cream is meant for normal to dry skin, and contains organic carrot juice, pomegranate, ginko and dead sea minerals. It is also free of parabens ans SLS. I was in my lunch break and didn't have time to read on, but I was practically sold because of the 'all natural feel' I got from this night cream and took it home with very high hopes. I paid about €13 for it.


The night cream comes in a plastic pump container, inside a bright orange box. I really like the packaging, it's hygienic and easy, and it looks nice.


The cream is very light orange, and has a special texture and feel to it.
It is a very thick cream, but it's not oily . It spreads very easily and has an almost matte satiny finish. It somehow also reduces the appearance of fine lines and enlarged pores. I wish my camera would pick up this detail, but when I apply it to one hand only, you can see how smooth and silky the skin looks compared to my bare skin.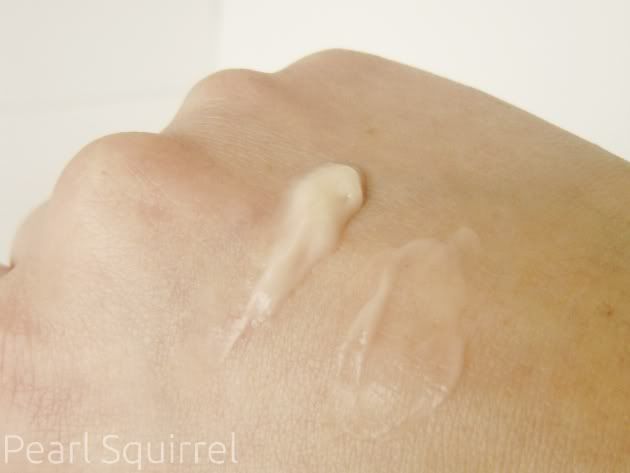 It has a very strong smell, that you either like or you don't. It smells a bit like carrots, but there's also something synthetic about it, and you can see 'fragrance' halfway in the ingredient list, which means that there's a lot more fragrance in it that in most moisturizers. I like the smell, but it is far too strong and lingers too long for a night cream in my opinion. I don't really get why they put so much perfume in it.
My first impression was very good, but unfortunately my skin didn't respond well to it after using it a while. It wasn't moisturizing enough, and my skin was getting more and more agitated. I really gave this a chance, but when my skin broke out very bad after less than 2 weeks, I switched back to my usual moisturizer. I was really bummed out because I wanted to love this cream, so after giving my skin a few weeks rest I gave it one more try. Bam, I broke out again.


I'm not sure what caused me to react like this. Although this is marketed as containing natural ingredients, it also contains a lot of chemicals. And even 'natural' doesn't always mean that it is good for your skin. (I just checked
www.yestocarrots.com
and noticed that they changed the packaging and changed the formula of the night cream. The propylene glycol (propanediol) and fragrance have lowered in the ingredient list, so this might make it less irritating!)
If you don't mind the strong smell and you don't have sensitive skin, you might like this night cream, but I wouldn't advise it for dry skin.
It does a great job making your skin
appear
smooth and hydrated, so this could actually be great for using in the morning before you apply make-up.
What's your favorite moisturizer?

Silke