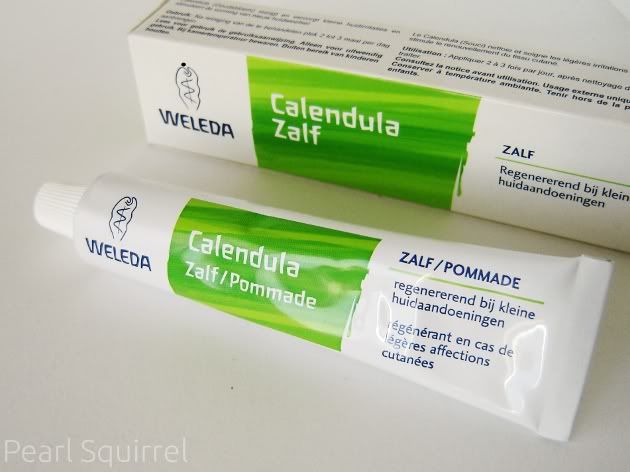 I am not the kind of girl that whines to her boyfriend about lifting heavy stuff or assembling furniture and things like that, I just do it myself. It doesn't always go as well as I thought it would, but I can be really stubborn and love the feeling of accomplishing something on my own. I also have a job where I use my hands a lot, so they get most damage: little scratches, sore cuticles, dry skin, you name it!
Weleda states that this Calendula ointment (dutch packaging) is good for treating all sorts of skin issues like rashes and little wounds. It reinforces the skins own healing capacity and has anti-inflammatory properties. Sounds good..
The ingredient list is quite vague. In dutch it says that the ointment contains an alcoholic extract of calendula (20%) but how concentrated is the extract?
I decided to google it a bit and read that this ointment is considered to be a homeopathic medicine. These products are often diluted so much that it is even hard to prove that they still contain the active ingredient. So yeah, I was a bit skeptic about it.
My biggest complaint is the scent. At first you can clearly smell alcohol, but that fades quickly. I asked some people to define the smell, and we all agreed that it smells like sheep! I bet it's the lanolin, a greasy substance that it derived from wool. I have gotten used to the smell and I only use it at night, but I can imagine that some people will hate it.
I have been using this ointment for over 6 weeks now, mostly on my hands but also on little wounds and minor rashes on my face. It is a very thick oily cream, so I only use it at night. It contains alcohol, and when applied on wounds
it stings for a moment.
Apart from the smell, I realy like this ointment, it does a great job at soothing and nourishing my skin! I don't really care whether it is the lanolin or the calendula extract, but there are cheaper alternatives out there if it is mostly the lanolin..
More info on Weleda's
website
.
Thanks for reading!
Silke