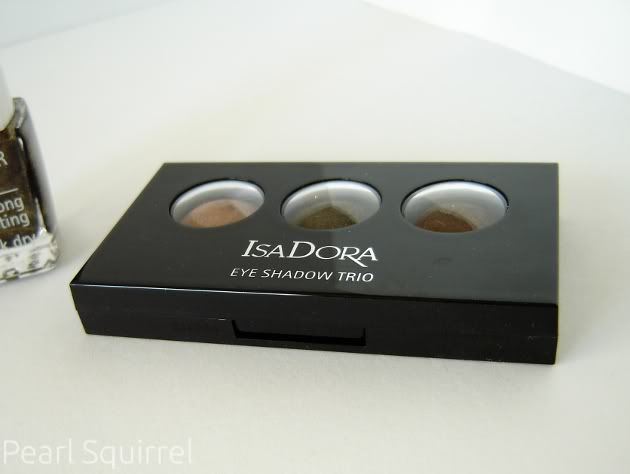 Along with
this
stunning nailpolish, I also bought a matching eyeshadow trio palette from Isadora's Forest Groove collection for autumn 2011. The Forest eyeshadow trio contains 3 colors that are perfect for making a smokey eyelook.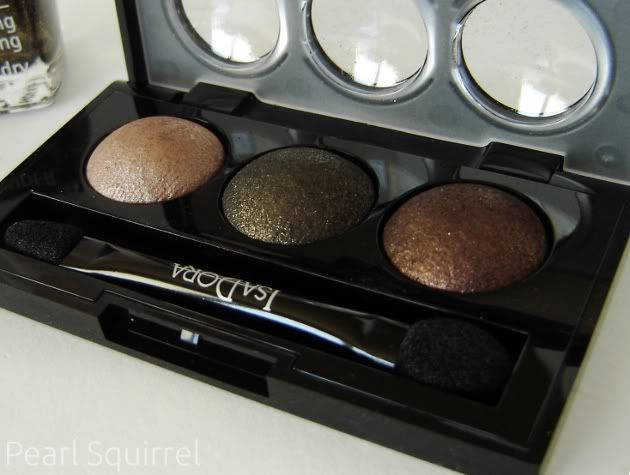 The lightest shade is a nice nude beige color with a subtle pearly shine. On my pale skin it is too dark to use as a highlighter, but it might work for people that are more tanned. I have worn this color on it's own a few times now and it is great for giving you an instant fresh look when you are short on time in the morning.
The green color is a very dark muted forest green with gold microglitters. The color doesn't show up as nice on the skin as it does in the pan, but it is a good color for a basic smokey look nevertheless.
The last color is a very rich warm brown with gold microglitters. It has the same subtle sparkles as the green color, but the pigmentation is better.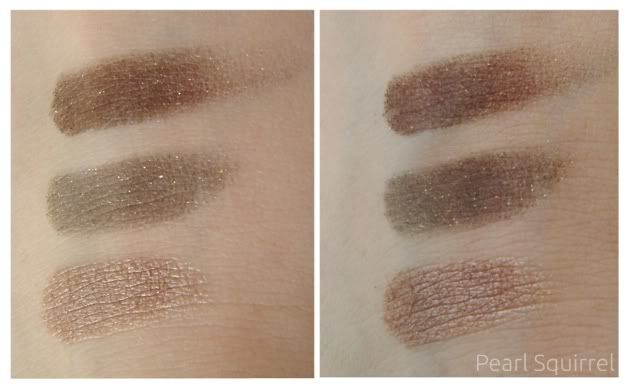 1 swipe applied dry
The beige and green color remind me a lot of a gosh eyeshadow duo called 'forest and field' that I used so much that there is more pan than eyeshadow left in it, it really is a nice combination :)
The texture is bit chalky and dry (the main ingredient is talc!) and the pigmentation could be better, but the colors are great. An eyeshadow base makes a huge difference.
I do think I will be using it a lot. I tend to buy more brights so I don't own many colors like these, and it is an easy palette for making a 5 minute eyelook without having to put myself through the torture of choosing a color from my single eyeshadows.. (anyone know what I mean?)
It is a nice trio, but it was quite pricey so am not sure I will buy more of these.
What do you think about Isadora make-up?
Silke