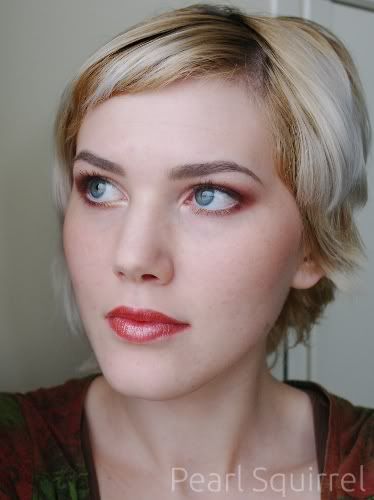 Another look I did a few days ago. I was tidying up and found a red pigment from Gosh that I had completely forgotten about, so I figured that autumn is the perfect time to use it again :)
Read on for more pictures and the product list!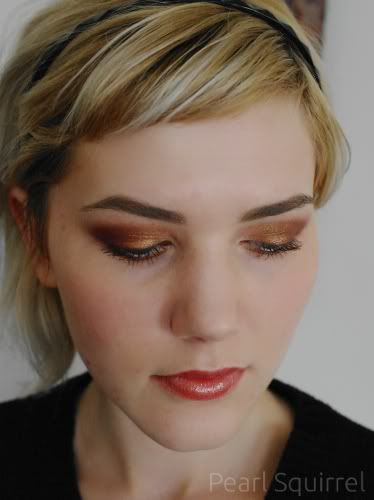 I applied sin in the inner corner of my eyes and then made a gradient towards the outer corner using baked, desert sand and rosewood. I applied the colors all the way up to the crease (and a bit higher, since I have heavy eyelids that do my make-up no justice unless I go full-on ) and used rosewood to deepen my crease some more. Underneath my lower lashline I made the same gradient, and I finished off with white kohl on the waterline, black kohl on the outer edges of my upper lashline, and some mascara.
Because I am so pale, I used sheer tan matte bronzer to contour my temples, cheekbones and nose, and hazelnut blush and a coppery orange gloss to match the warm shades of my eyelook :)
Product List: (a lot!)
Eyes:
Urban decay primer potion,
Urban decay sin & baked eyeshadow
Mad minerals Desert Sand multi use pigment
Gosh Rosewood effect powder
Hema eyebrow pencil
Gosh white kohl pencil
Random black kohl pencil
Helena Rubinstein sexy blacks waterproof mascara (brown)
Face:
Lancome teint miracle foundation
Biotherm forget it concealer
Mad minerals mineral foundation in fair
Mad minerals aloe veil finishing powder
The body shop blush in 07 Hazelnut
Mad minerals sheer tan matte bronzer
Lips:
Mac Pinkular lipglass
What's your favourite color for autumn?
Silke